Build 61.09

HyperOs 10PCs-In-1 Installation and Operation Guide
---
Contents
---
Notice to User
No part of this manual, or the products or software described in it, may be reproduced, transmitted, transcribed, transferred, copied, sold, resold, sorted in a retrieval system, or translated into any language in any form or by any means, except documentation or software kept by the purchaser for backup purposes, without the express written permission of HyperOs Systems Limited (or HyperDrive Computers Ltd). No part of HyperOs (all editions) software may be reverse engineered or decompiled.

HyperOs Systems Limited provides this manual and HyperOs (all editions) software "as is" without warranty of any kind, either express or implied with respect to this software or documentation, their quality, performance, merchantability, or fitness for a particular purpose. In no event will HyperOs Systems Limited or HyperDrive Computers Ltd be liable for direct, indirect, special, incidental or consequential damages arising from the use or inability to use the software or documentation.

HyperOs Systems Limited policy is one of constant development and improvement of our products. We reserve the right to alter, modify, correct and upgrade our software programmes and publications without notice and without incurring liability.

Products and corporate names appearing in this manual may or may not be registered or copyrights of their respective companies, and are used only for identification or explanation and to the owners' benefit, without intent to infringe. All trademarks of Microsoft, Powerquest and Promise etc. are hereby acknowledged.
Copyright and licensing information
The computer program "HyperOs" in all versions is the property of HyperDrive Computers Ltd. HyperOs Systems Limited is a licensed reseller of this software. The program is protected under copyright laws and is licensed for use only by the legitimate purchaser of the product, who purchased "HyperOs" from an authorised sales source. Sale, transfer, lease, hire, rental or reassignment to, or by, a third party without the prior and written permission of HyperOs Systems Limited is strictly prohibited. It is absolutely prohibited for any person (individual or corporate) to sell or transfer HyperOs on eBay or any other web site without the prior and written permission of HyperOs Systems. Any person who sells HyperOs without such permission undertakes to pay immediately the gross proceeds from the sale to HyperOs Systems Ltd and to pay HyperOs Systems' reasonable costs in recovering these proceeds.

Copyright © 2001, 2002, 2003, 2004 - onwards. HyperDrive Computers Ltd (or related parties)
Shepperton House, 82-93 Shepperton Road, Islington, London N1 3DF, England
Terms and conditions
Please note that any business customer purchasing more than 2 licences of the HyperOs Systems Software product agrees to permit HyperOs Systems' staff or agents to inspect their PC equipment, having been given 7 days advanced notice, to ensure that HyperOs licensing terms are strictly adhered to.

Returns: If HyperOs Systems agrees to refund a licensee, then the licencee must return the product in reasonable condition for resale to HyperOs Systems Returns Department. The licencee is responsible for the costs of returning the product. Refunds will be issued within 30 days of receipt of returned goods unless otherwise stated.

Notice for the purposes of the relevant EU Law:
Your HyperOs product contains a manual.
Personal consumers (not business customers) have the right to cancel their order during a cooling off period of 7 working days, starting the day after goods are received if the good are unopened. But software downloads are always deemed to be opened. So there is no right to return HyperOs Software for copyright theft reasons.
Patent information
HyperOs and its components are covered by the Patent Applications:

0100434.0
0105792.6
0105793.4
---
Running Windows 2000, XP and Vista Under HyperOs (Operation Guide)
The My Other Computers window

The My Other Computers icon on your desktop is your portal to all your Windows systems. Double click it to begin working with your extra systems.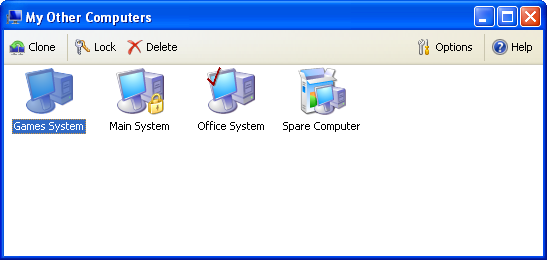 What the icons mean
| | |
| --- | --- |
| | A Computer icon will appear for each Windows system you have. |
| | A ticked/checked Computer icon will appear if that system is currently the one you are running (the active system). |
| | Drag a Windows system onto the Spare Computer icon to create a copy of that system. |
Creating new Windows systems
To create a new system, select a computer by single clicking its icon in the My Other Computers window and holding down the mouse button. Then drag this system to a Spare Computer icon to create a new system or to another Computer icon to overwrite that system with the selected system. Then release the mouse button. The "Copy To" window will then appear. Hit the "Copy" button to perform the clone. You may be asked to restart your computer to complete the copy.

Alternatively select a system to clone and then click the Clone button on the toolbar at the top of the My Other Computers window. The "Clone To" window will then appear. Select your destination system (either a Spare Computer or a Computer icon) and click Clone.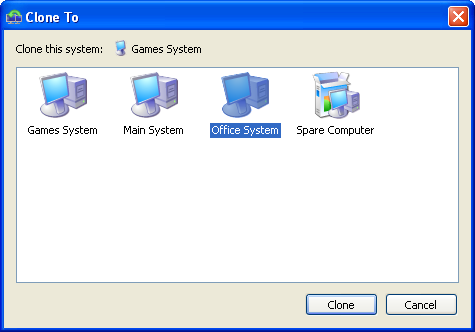 Switching between systems
To switch to another system simply double click the system that you wish to swap to. The "Confirm Switch" window will then appear. Hit the "Switch" button to make the switch.

Locking a system
You can lock a system so that My Other Computers cannot change it. This is a small security measure to prevent you altering a system inadvertently. To lock a system, click the icon of the system to lock and then hit the "Lock" button on the toolbar at the top of the My Other Computers window. To unlock a system hit the "Lock" button again.
Deleting a system
To delete a system, highlight the system and click the Delete button on the toolbar or press the Delete button on your keyboard. This will only remove the chosen Windows system.
Using the tray icon
Located in the system tray (next to the system clock) is a computer icon. Click it to access a menu of all your systems and to quickly switch between them. Click on a system to switch to it. For the quickest access to this menu hold down the Windows key and press "H" at any time. You can also double click the tray icon to quickly open the My Other Computers window.
---
Uninstalling HyperOs
From any system, open the Windows Control Panel and double click the Add or Remove Programs icon. Select "HyperOs 10PCs-In-1" from the list, click the Change/Remove button and follow the instructions on screen.
---
Miscellaneous Notes
HyperOs will not permit the uninstallation of Windows XP Service Pack 2 from a cloned Windows system.

If Windows crashes and won't restart, use the boot menu to switch to another system (full version only). The boot menu is shown each time your computer starts up, and begins with the text "Please select the operating system to start". If the boot menu isn't being shown, restart your computer, then as the PC goes through the start up BIOS screen hit the F8 key every half-second until the Windows Advanced options menu appears. Choose "Return to OS choices menu" to access the boot menu.

If you had previously been using a multiboot system and you wish to convert your PC back to single boot for HyperOs, then run FIXMBR from the repair console of Windows 2000, XP or Vista. This will rewrite your Master Boot Record to single boot.
Installing new programs into your various systems
Only install applications on the drive that Windows is running on. If you choose to move Windows from one drive to another drive by dragging and dropping its system icon.

Do not use applications installed in Windows on drive E when you are running Windows on drive F. Most people would not think of doing this, but we have to warn everyone. Do not cross-install or cross-use applications. Treat each Windows system as a separate computer. If you are running Windows on drive E then make sure to install Photoshop on drive E and only run it from that system. Do not attempt to run it from the Windows system on your F drive and do not install it on your F drive.
Windows and BIOS disk number problems
Windows does not speak to your BIOS. Therefore Windows will merrily give your hard disks numbers which are different from your BIOS disk numbers. For example it may call your Bootable Disk, the one with the C: drive on it, Disk 1. In fact it can recognise and copy files to and from a disk which it has detected but which the BIOS has not detected. Now if you only have 2 Physical Hard Disks, the BIOS will call the bootable disk, the one with the C: drive, Disk 0. And obviously it will call the second Physical Hard Drive, Disk 1.
But if you have 3 or more Physical Hard Drives you basically have to guess what disk numbers the BIOS has given you non bootable Physical Hard Drives . Even Partition Magic is not an accurate guide. The BIOS itself cannot tell you directly either in our understanding.
So we have provided an interface where you can etner the correct BIOS Disk numbers against the Windows Disk numbers. If you swap to a system on a new Physical Hard Drive and you either end up on the wrong system on with a hardware configuration problem and XP refuses to boot, then swap back to your original system and try another BIOS Disk number order!
We believe that most BIOSes order your disks as follows:
The bootable disk containing a primary bootable partition
Other IDE channel disks
SCSI disks (from Hard Disk controllers etc)
Other SATA disks
To manually enter your guess at the correct BIOS disk number order:
Double click My Other Computers > Click the Tools menu > Click Options > Click the Booting tab > Adjust disk number order
Keeping Windows XP installations small
Turn off "System Restore", it is not necessary with HyperOs.

Right click My Computer > Choose Properties > Click the System Restore tab

Disable Hibernate, it uses around 1GB of disk space

Open Control Panel > Switch to Classic View if necessary > Double click Power Options > Click the Hibernate tab

Make sure that all Paging files are on drive C. In fact all different versions of Windows NT, 2000, XP etc. are happy to share the one paging file on C.

Right click My Computer > Choose Properties > Click the Advanced Tab > Click the Settings button in the Performance section > Click the Advanced tab > Click the Change button in the Virtual Memory section
Useful tips
Put all of your fonts in your word processing system only. Large numbers of fonts slow down the loading and running of Windows. You will find your fonts in the Fonts directory of the Windows directory.

The most important performance element with a PC today is the Hard Disk controller and the hard disk. Make sure you have a fast SATA disk (such as a Western Digital Raptor) and preferably purchase a fast SATA controller card if your MOBO does not have a fast native SATA controller on board.
---
All Trade Marks of Microsoft, Powerquest, Symantec etc. are hereby acknowledged.
This whole manual is to be read as "subject to having the necessary software licences".
Happy HyperOssing!
The HyperOs Design Team
Technical Assistance: support@hyperos.net

---
Further information is available on the FAQ page of our website at www.hyperossystems.com.
Help from other HyperOs users is available at the HyperOs independent forum at www.hyperosforum.co.uk.